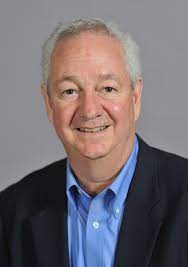 Tom Rogers is the President and Chief Executive Officer of the University of Tennessee Research Park (UTRP) and a valued partner of Three Roots Capital. Rogers has spent his career supporting entrepreneurship and business development efforts in the region and has a long history with the Three Roots team.
Rogers started his career at the Tennessee Valley Authority, eventually moving to the Oak Ridge Chamber of Commerce, as its President and Chief Operating Officer. In 1995, he founded the venture development organization, Technology 2020 (Tech 2020), and served as the Executive Director of the Tennessee Technology Development Corporation (now Launch Tennessee). Prior to joining UTRP, he spent over a decade at Oak Ridge National Laboratory, serving as the Director of Industrial Partnerships and Economic Development and founding the Innovation Crossroads program.
"I guess you can say I've hit for the cycle – I've worked for all the 'Big Three' – TVA, ORNL and now UT," joked Rogers. "I've had great opportunities to work with some really good people, people who share my passion for making this region a better place."
No matter what new position he finds himself in or organizations he has worked for over the years, Rogers has always found himself gravitating back toward entrepreneurship, particularly in relation to science and technology innovation coming from the university or national lab.
"There are lots of organizations that are in the business of attracting companies. That's important. But what I like to do is help create companies, not just attract them," said Rogers. "Entrepreneurs are important because they translate science into impact. I think they bring passion and drive to the table and are really important as part of the process of commercializing the science and tech we create here."
With the rise of hardtech startups launching out of East Tennessee, Rogers emphasized the importance of attracting capital to the area to keep these companies here or risk their relocating elsewhere. He believes Three Roots' mission is an important piece of this puzzle.
"I think that everyone in the region recognizes that access to capital is an issue. Everyone recognizes that while we've had some success, we've not cracked the code on that," said Rogers. "I'm grateful that Three Roots has agreed to take the lead to continue to work on that issue. Because if we want this region to be the entrepreneurial hub that we think it can be, capital is going to be an important part of the equation."
Rogers met – and hired – much of the Three Roots team while leading at Tech 2020 and is proud of the work they accomplished during his tenure. Rogers remained on the Board of Directors of Tech 2020 when he left to join ORNL. Some years later, the nonprofit folded its operations as a venture development organization. Rogers admitted he was initially skeptical of the plan to pivot and focus exclusively on access to capital, but he ultimately has been impressed by how Grady Vanderhoofven, Founder, President and Chief Executive Officer, and his team took Tech 2020's charter and CDFI certification and – "like a phoenix rising from the ashes" – reinvented and regrew it. Rogers and Three Roots have continued to find ways to work together over the years. Examples he cited include the creation of TennesSeed Fund, which invested in Active Energy Systems, a Research Park Spark client, and the assistance Three Roots has provided by financing several real estate development projects at the Research Park.
"Tom Rogers has been an instrumental figure in my career and in the lives of so many others in the Knoxville-Oak Ridge region," said Vanderhoofven. "I'm proud of what we were able to accomplish together with respect to access to capital when Tom was leading Tech 2020 and in the years since. We've partnered recently to secure a federal grant to drive investment to projects and companies at UTRP, which is an Opportunity Zone, and worked together to explore mechanisms to address the need for capital for young and start-up companies in this region. I look forward to more opportunities to collaborate."
With the launch of the Spark Cleantech Accelerator and other opportunities, Rogers is optimistic about the future of the Spark Innovation Center. From offering incubator space to expert mentoring, Rogers is looking forward to helping hardtech startups grow and have real-world impact.
"We've learned a lot in four decades. We have a wonderful team of people, both at UTRP and with our partners and collaborators," said Rogers. "I call it place-based innovation. We want the park to be the place where the most promising hardtech startups gravitate. In a few years, you'll see a beehive of activity that I think the whole region will be proud of."