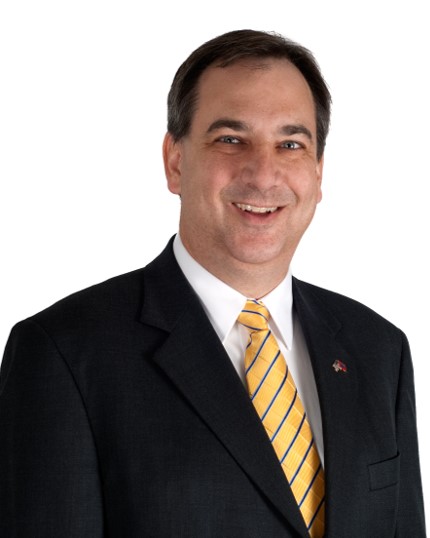 David Bradshaw is the Oak Ridge Area Manager for Pinnacle Financial Partners and Chairman of the Three Roots Capital Board of Directors. Whether through his work at Pinnacle or Three Roots, Bradshaw is passionate about bringing access to capital for rural entrepreneurs and small businesses in Oak Ridge and the greater East Tennessee region.
"We're trying to make capital — that is so hard to get into Tennessee and even harder into rural parts of Tennessee — accessible to these business owners who are just as smart as anybody else," said Bradshaw. "We want to show the country that we can support entrepreneurs in Tennessee, and that they can build great products and companies right here."
Bradshaw is a "big believer" in being ready for any opportunities that come his way. He began his career as an industrial engineer at Y-12 National Security Complex. Later, he joined Tech 2020, where he provided technical assistance and financing to startups and early-stage companies in southern Appalachia. Tech 2020 Finance Corporation became certified as a Community Development Financial Institution (CDFI) while Bradshaw worked there. After leaving Tech 2020, he moved to SunTrust Bank and then CapitalMark Bank, which was acquired by Pinnacle. In addition to his financing career, Bradshaw ventured into local politics, serving as Oak Ridge's Mayor from 2001 to 2007.
In his work, Bradshaw enjoys doing what he can to empower his clients on their entrepreneurial journeys. From first meetings with potential clients at local Oak Ridge eateries to watching clients' companies flourish, he is proud to have helped them along the way.
"I get to take that ride with them and do my part to keep them out of the ditch and make them successful," said Bradshaw. "The whole reason you want businesses to be successful is that they can empower their employees to be successful. That's what's really important to me personally and through my work at Three Roots."
Bradshaw met Grady Vanderhoofven, Three Roots' President and CEO while working at Tech 2020 almost twenty years ago. When he left Tech 2020, he remained on the Tech 2020 Board of Directors and then joined the Three Roots Capital Board of Directors when the organization launched in 2016.
"We have a fantastic Board and staff," Bradshaw said. "We define our success on the success of our clients and their ability to create jobs and grow their business and give back to the community and the economy. I'm very proud of the team we have, the investors in Three Roots, and the Board who is overseeing the growth."
For several years, Three Roots has been working to secure a loan from Pinnacle Financial Partners to increase the amount of capital Three Roots has available to fund projects like those that are part of the redevelopment efforts of downtown Oak Ridge. Thanks to Bradshaw's diligence, Three Roots recently finalized a deal and forged a vital new partnership between Pinnacle and Three Roots.
"David and I have known each other for 20 years. He has been with Three Roots since the very beginning," said Grady Vanderhoofven. "David's belief in the potential for Three Roots as a CDFI was instrumental in the creation and launch of the company.  David's perseverance and tenacity were key to securing this recent deal between Pinnacle and Three Roots. I think David exemplifies what it means to be a community banker, and he is a tremendous asset to our community. I'm thankful for this new relationship between our two organizations and grateful for David's friendship, guidance, and support over the years."