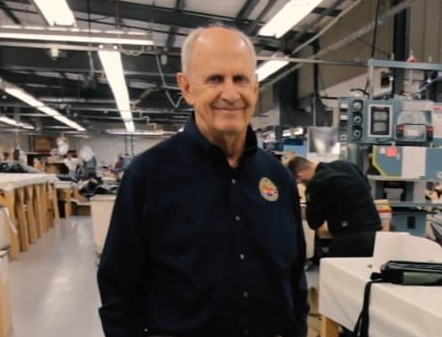 J.C. Egnew, Outdoor Venture Corporation
J.C. Egnew is the Chairman and Chief Executive Officer of Outdoor Venture Corporation (OVC) and a valued partner of Three Roots Capital. As a former NASA engineer turned serial entrepreneur, Egnew is responsible for creating five manufacturing facilities and more than 1,000 jobs in McCreary County, a rural and historically economically distressed region of southeastern Kentucky.
Egnew hasn't always wanted to be an entrepreneur. Growing up in southwestern Indiana, he graduated college with a degree in mechanical engineering. During his schooling, he was able to "get in on the ground floor" of NASA through his university's co-op program. In 1963, he took a full-time job with the agency, first working as a rocket test engineer in Huntsville, Alabama, and later at the NASA Stennis Space Center in Mississippi.
In 1968, he decided to pursue a graduate degree in industrial management at the University of Tennessee, Knoxville, where he researched growth patterns of small businesses, featuring a local recreational camping business in his thesis work. After returning to NASA briefly upon graduation, he came back to Knoxville to serve as a vice president of manufacturing at the company he had studied during his graduate career.
After "working hard and not making any money" for a couple of years, Egnew decided it was time to start his own business. With the help of a couple of friends, he founded OVC in 1972. He began his operations in a previously abandoned building given to him by the president of the local lumber company in Stearns.
In addition to his entrepreneurial activities, Egnew is passionate about revitalizing his community. Over the years, he has actively worked to improve the wellbeing of the county, including helping bring a public library to the area, serving as the first McCreary County Chamber of Commerce President, and donating a building, which was restored and transformed into a Depot for the Big South Fork Scenic Railway. For Egnew, giving back to his community is personal.
"We're all put on the world to make a difference for others and in a small community, it gets really personal," he said. "It's not like writing a check to an entity that you aren't personally involved with. It feels good to see your neighbors and friends do better and have a better life. It's very rewarding."
Egnew first met Grady Vanderhoofven, Three Roots Capital President and Chief Executive Officer, more than fifteen years ago.  Ray Moncrief introduced Vanderhoofven to Egnew.  At the time, Moncrief and Vanderhoofven were partners in two venture capital funds focused on Appalachia, and Moncrief had been friends with Egnew for years and was very familiar with OVC.
"To me, J.C. is the epitome of what a successful entrepreneur can mean to a community," Vanderhoofven said. "His economic and social impact in that county cannot be overstated. Because he chose to live in southeastern Kentucky, the entire community reaps the benefits of what he has accomplished there.  Three Roots Capital strives to support entrepreneurs and companies that positively impact their communities."