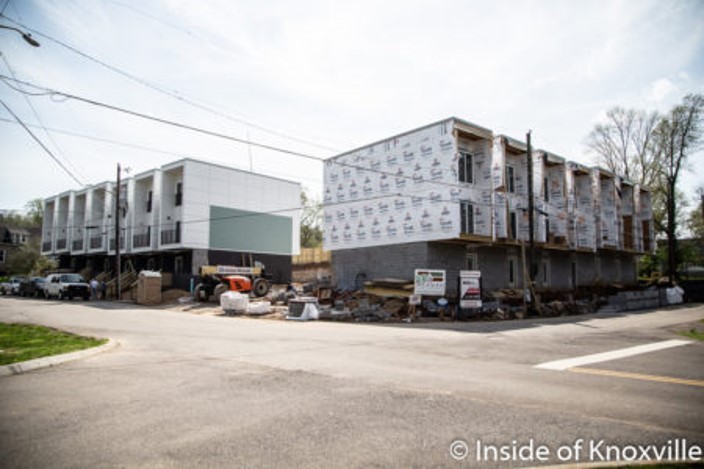 Three Roots Capital supports the revitalization of the South Waterfront district in Knoxville. This effort requires increasing the number of high-quality housing options for residents and building restaurants, retail stores, and attractive job opportunities in the neighborhood. Three Roots is interested in partnering with developers and entrepreneurs to finance ongoing projects like the Foggy Bottom Flats development.
Foggy Bottom Flats is a multi-family housing development that opened for leasing in June 2020. The 14 townhomes are located only one block from Suttree Landing Park, along the Tennessee River, and a short distance from Knoxville's 1,000-acre Urban Wilderness. Occupants are less than a mile from downtown Knoxville and within walking distance of numerous retailers, restaurants and breweries, including Alliance Brewing — a former laundromat. Brett Honeycutt, local architect, contractor, and lead developer of Foggy Bottom Flats, bought, designed, and renovated Alliance Brewing in 2015.
"As a property investor, it made sense for me to look down there," Honeycutt explained about south Knoxville. "It was in an area that was just getting ready to kick off. … It was going to happen one way or another, so I'm not a catalyst for getting things started in south Knoxville, but what we did with Alliance helped."
Honeycutt's work on Alliance Brewing led to him getting involved in the resurgence of the craft beer scene in Knoxville. Over a three-and-a-half-year period, he became involved in architectural or contracting work for around 10 breweries in the area. Once his brewery projects began to slow down, he turned his sights on a final, large project on the south side before he went into semi-retirement: Foggy Bottom Flats.
Honeycutt and his wife Jan Conely originally tried to launch a multi-family, modern housing development in north Knoxville but were derailed due to the 2008 recession. In 2014, they bought the property where Foggy Bottom Flats is now located and started looking for contractors and partners in 2018.
They brought on several partners to develop Foggy Bottoms Flat due to the size of the project and not wanting to take such a large risk so close to retirement. Honeycutt's partners include Jan his wife, Garry Ferraris, Brian Simmons, Tim Ewers, and Brian Ewers. He enlisted Dollar & Ewers Architecture to handle the design and renderings and Reagan Design + Construction for construction and design.
For financing the project, Honeycutt turned to Bryan Kilday, VP Commercial Lender at Renasant Bank, who he previously worked with on the Alliance Brewing project. Due to the nature of the Foggy Bottom Flats project, Kilday suggested Honeycutt and his team approach Three Roots Capital for financing. Three Roots provided a nearly $2 million loan for construction and permanent financing of the project.
"Three Roots is proud to partner with Renasant Bank on projects like this development that positively impact our community," said Dennis Corley, Business Development and Community Relationships Manager at Three Roots. "Our team will continue to provide capital, connections, and expertise to entrepreneurs and high-quality developments throughout the greater East Tennessee region."
"It's been great working with Three Roots," Honeycutt said. "We appreciate the assistance. I have encouraged other people to talk to Three Roots because I thought it was a great opportunity."