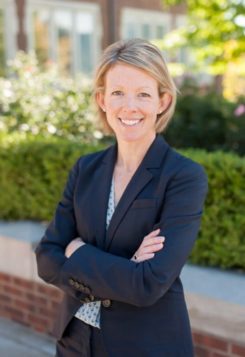 Marianne Wanamaker is an associate professor of economics at the University of Tennessee, a research associate at the National Bureau of Economic Research, and a research fellow at the Institute of Labor Economics (ILA). She serves as co-editor of Explorations in Economic History and is the former chief domestic economist at the White House Council of Economic Advisors, where she also served as the senior labor economist. She is a member of the Federal Workforce Policy Advisory Board. She is a former associate consultant for Bain & Company in Boston, Massachusetts where she worked on the healthcare and retail teams.
Dr. Wanamaker's research interests include labor economics and workforce development, education, American economic history, and demography. Her work has been profiled in The Wall Street Journal, The Atlantic, and The Washington Post, among other outlets, and she has publications in Quarterly Journal of Economics, Journal of Labor Economics, American Economic Journal: Applied, Journal of Public Economics, Journal of Economic History, and Explorations in Economic History. The National Science Foundation, National Institutes of Health, and private funders have awarded grants to support her research. Along with Marcella Alsan (Stanford), she is the recipient of the 2019 Kenneth J. Arrow Award for her work on the Tuskegee study, named by the International Health Economics Association as the best paper in health economics published in 2018.
In addition to her research record, Dr. Wanamaker has been the recipient of several college and university-level teaching awards, including UT's Alexander Prize in 2019. In 2017, she was named to Poets and Quants Top 40 Undergraduate Professors. She regularly teaches undergraduate and MBA courses on economics and business ethics.
Dr. Wanamaker is a 2001 summa cum laude graduate of Vanderbilt University, where she was a member of Phi Beta Kappa. She completed her doctoral work at Northwestern University in 2009 and has been on faculty at the University of Tennessee ever since. At UT, Wanamaker holds positions as a Kinney Family Faculty Fellow, a Boyd Center for Business and Economic Research Fellow, and the BB&T Scholar in Markets, Capitalism and Ethics in the Haslam College of Business.