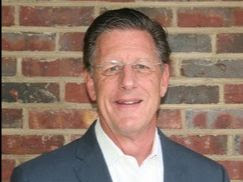 Three Roots Valued Partner Spotlight:
Bob Cantler, President and CEO of Johnson City Chamber of Commerce
Bob Cantler is the new president and CEO of the Johnson City Chamber of Commerce, and a valued partner of Three Roots Capital. With his extensive background working in the hospitality and tourism industry and business development sector, he was a natural fit to assume his role at the Johnson City Chamber and to promote innovation and entrepreneurship throughout the region.
As the Chamber's new leader, Cantler is focused on business development. The Chamber is focused on enhancing the community's ecosystem to help startups, small businesses, and entrepreneurs thrive. He said Three Roots has been a great partner for the Chamber with this goal.
"There has been a lot of growth in East Tennessee recently," Cantler said. "The community has great momentum in terms of economic development opportunities. It is a great time to be a part of that."
Cantler is a Johnson City native who returned to the area with his family in 2001 to work for Meadowview Marriott Resort. In 2005, he became vice president and general manager of the General Morgan Inn, where he began working in business development for the Niswonger Group.
It was during his tenure at the Niswonger Group that he got to know Grady Vanderhoofven, who eventually would launch Three Roots Capital and today is Three Roots' president and chief executive officer. In 2016, Cantler founded his freelance consulting business, Internity Development, and began exploring opportunities to work with Vanderhoofven and Three Roots.
Currently, Three Roots and Cantler are working on a high-impact, business-development, community-improvement project in Johnson City
"Their knowledge and experience has been phenomenal," Cantler explained. "They have been a unique resource for how do you look at venture capital, in terms of the value community development financial institutions (CDFI) bring to our lenders and projects. They bring different resources, ideas, and concepts to the table, which is important if you want to be progressive in today's world."
In addition to the current project, Cantler has connected Three Roots with several organizations that are looking to move to the region and may require funding or support. Three Roots has also supported established organizations in the area.
"Three Roots has helped some of our larger employers in the area who are looking to branch into innovation, such as what questions do you need to ask and how do you vet a project," Cantler said. "They've been an instrumental partner and a resource not only for myself but for several of my stakeholders."